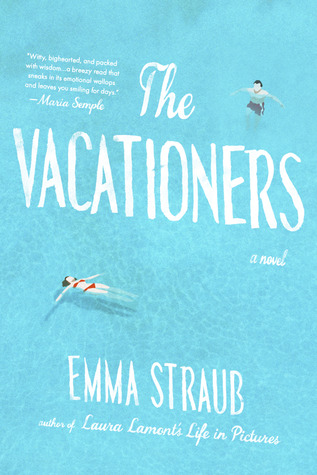 " 'Buenos dias,' Franny said to the woman in the apron. If she was being truly honest, Franny was slightly disappointed that the women in the market were all wearing perfectly normal clothing, with mobile phones sticking out of their pockets, just like women in New York. It was even true in Mumbai, that a woman in a sari would whip a cell phone out of their pocket and start talking. When Franny was young, everywhere she went felt like another planet, like some glorious wonderland on the other side of the looking glass. Now the rest of the world felt about as foreign as a shopping mall in Westchester County."
The Post family are about to embark on one of the last great family adventures as they travel to the foothills of the Tramuntana Mountains in the township of Puigpunyent in Spain. "Pigpen" as daughter Sylvia and the rest of the Post clan have affectionately coined it, is a municipality in western Majorca, one of the idyllic Balearic Islands. Globetrotting is an important aspect of life for this family, but this experience is a little unlike the others. This time they will be spending two weeks in a beautiful vacation home TOGETHER with family and close friends, not split up, not traveling alone, but like one big happy extended family. While youngest daughter Sylvia has just graduated from high school, she is counting the days until she leaves for Brown University. Oldest son Bobby has seemingly been gone for ten years since he left the nest for school and hasn't looked back since becoming a real estate agent in Florida. He is currently in a "strong and healthy" relationship with a woman ten years his senior named Carmen who he met while working out at a gym where she's a personal trainer. Matriarch Franny and Patriarch Jim have been married for thirty five years and they are about to celebrate their anniversary, but I don't imagine coral, jade, or emerald jewelry is in store for this couple's festivities. You see, Jim has recently been forced to resign from his job as Editor of a magazine for men called Gallant after having sex with his editorial assistant. The young lady happens to be half his age and only a few years older than his daughter Sylvia. Franny is a travel food writer who has traveled all over the world tasting their respective national delicacies. With the news of Jim's resignation she is unhappy with the thought of being the lone provider for the household. And after learning that she has been cheated on with a young girl, for once in her life she actually feels old. With all this turmoil she is contemplating divorce, but has great fears of being alone for the rest of her foreseeable days. Family friends Lawrence and Charles are a happily married couple that have been together for a long time, but have only been lawfully bound for three years. Charles is Franny's dearest friend and confidante and has decided to go with Lawrence to Majorca to spend time in Spain but also help Franny with her troubles.
This book is slow-moving and plods along with little in the plot to maintain attention and motivation to read in the early developmental stages. I was highly-anticipating reading this book, but found it to take around seventy-five pages or so before it became warranted. With all of the characters in this story it took a lot of time devoted to the development of the characters before the water calmed and you could settle in to the story. Towards the halfway point on to the end of the novel, the heart of the story really shone through. I like how it initially gives the impression of being a quirky and humorous read on complicated family situations but ultimately is a very heartwarming, optimistic take on the dynamics of relationships in all forms. For me I was thinking of American Beauty with all of the inner turmoil, but through the lens of an 80's family comedy dripping in nostalgia and angst that has no age requirement.
" 'Did you ever think about leaving Mallorca?' She asked. 'When you were playing on the tour, you must have gone all over the world. Was there ever another place that spoke to you? You know, somewhere you wanted to stay?' She cupped her hand under her face. 'Do you have any kids?'

' You ask a lot of questions,' Antoni said. 'Or maybe you're still recovering from your brain injury.'

Franny laughed and patted herself on the head, which did indeed still have quite a lump, but Antoni didn't smile. He wasn't kidding."
The characters are identifiable yet maybe hard to relate to given their economical standing. With that said they endure very common problems that trouble all genders, in poverty or not. Even though they are not part of the 1%ers they are not quite part of the "ATTENTION Wal Mart shoppers" crowd. First off you have the hard working, reserved, near retirement modern day mid-life identity crisis husband/father Jim. The career woman, bossy, headstrong, controlling, flirtatious yet vulnerable wife Franny. Franny is the sun in the Post family solar system, everything revolves around her. The rebellious, at times old-school other times millennial, strengthened by conventions, young daughter Sylvia. An older, spoiled brother/son named Bobby that wants to maintain his youthful exuberance all-the-while shirking the responsibilities of relationship and occupation that come with a certain age. Maybe he should go by the more executive accepted Robert to alter past patterns and pave a more productive path. Lawrence and Charles my bother some as they are your stock gay couple struggling to adopt a child at their advanced ages, but watching the course of the next two weeks will provide them more clarity in their decision-making moving forward.  Not to mention a host of other secondary characters in the forms of tour guides, clay court tennis professionals, motorcycle gang members…
This book reaffirmed my belief that their is such a joie de vivre in people across Europe. For a lot of Westerner's  there is such a monotony or a sobriety about the people,we seem to be so focused on pleasing others and fretting about the small things that they fail to enjoy the life that quickly passes them by. The Post family slowly learn to enjoy their time together, you just hope it will continue once they head back to New York. This book is very clichéd and for the pessimistic you may find many faults, but relying more on my optimistic perspective, I believe the heart and soul reign supreme. I would recommend this book to plenty of people, but if you find gay BFF's punching out cheating husbands, or loving father's urinating all over their sons jelly fish stung leg, or an older seductress trying to win the heart of an attractive, retired Spanish tennis professional by smacking herself over the head with a racquet then this book is for you. If you want something a little more deep rooted, again this book has a tremendous amount of heart, a lot of wise words to be had, and very real characters that you may not see eye-to-eye with at the start but I am sure you feel something for them by the end.
"All four Posts held their breath simultaneously, each wishing for the moment to last. Families were nothing more than hope cast out in a wide net, everyone wanting only the best. Even the poor souls who had children in an attempt to rescue a dying marriage were doing so out of a misguided hopefulness. Franny and Jim and Bobby and Sylvia did their silent best, and just like that, for a moment, they were all aboard the same ship.

'We made it, Jim.' There was nothing in life harder or more important than agreeing every morning to stay the course, to go back to your forgotten self of so many years ago, and to make the same decision. Marriages, like ships, needed steering, and steady hands at the wheel.